A future president in the works?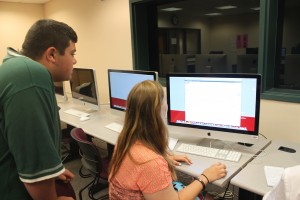 by Kelsey Kresge
These days, it seems that more and more young adults are unsure of what they plan to do in the future. For nineteen-year-old Aaron Dupuis, however, his future is pretty clear.
Aaron is currently entering his sophomore year at Franklin Pierce University in Rindge, New Hampshire, where he is double majoring in political science and biology. For Aaron, though, politics is more than just a 45-minute class; it's a passion. He dreams of being a politician, and his double major is intended to aid him in achieving that dream.
Summer does not mean the end of life at Franklin Pierce University for Aaron, though. This summer, 2012, he is working at the Presidency and the Press: a media conference taking place at the university for high school students.
It was only last year when Aaron participated in the Presidency and the Press himself. It was here where Aaron, as well as the other participants in the program, got the opportunity to interview presidential candidate, Rick Santorum.
As most people know, it can take a lot of money to be involved in politics. Aaron realizes this, and with his experience in biology, he plans on becoming an optometrist. This career will then support his campaign once he runs for congress, and hopefully someday… for president of the United States.