Phillips eager to begin new chapter in his college career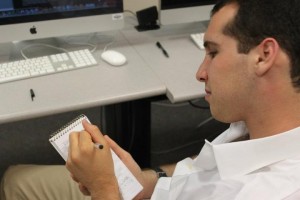 by Katie SIlverman
Although the summer months don't tend to attract many visitors to Franklin Pierce University, Noah Phillips can be considered an exception as he has spent the past few weeks on the campus.
Phillips, along with his three year old dog George,  are back in Rindge for the summer.  Phillips has attended summer courses at Franklin Pierce and is helping out with the Presidency and the Press.   Phillips is glad to be back in New Hampshire for the month "I like new places, and new experiences. "
Phillips is entering his senior year at Franklin Pierce and is happy to say that his time at the university and travelling abroad in France and Spain has been quite enjoyable.
He is majoring in Business and also is going for a minor in Art History.  He has a very wide range of interests though.  Phillips also enjoys media and journalism  and has a biweekly radio show with his classmate Sheila. Their radio show was nominated for two fitzes for best music and best radio show.  He is also the copy editor for the school newspaper.  Phillips plans to create an FPTV show dedicated to cooking during his senior year.
After college, Phillips' wide variety of interests, and belief in 'not complying with the social norm' has opened many doors related to his after college career.  Politics, Marketing, business, and the magazine industry are all possible options.