Brendan Sica planning his prospects in politics, despite his busy schedule.
by Niklas Cantatore
When Brendan Sica committed to the Presidency and the Press Program, he was ecstatic, he knew that it would benefit his future political career.
Citing John F. Kennedy and Ronald Reagan as influences, Sica expressed his interest in holding political office, and said that "a state representative or senator would be ideal." Sica has also stated that he is a "people person," he believes that it would offer an advantage in politics.
Sica's experiences at the Presidency and the Press Program have been very successful so far and have increased his political knowledge which will strongly benefit his future.
"Politics and the news are my interests," said Sica. "I want to learn how it works to a greater extent."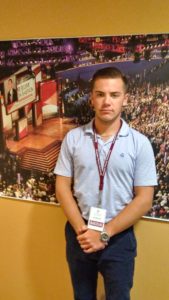 Sica, a Republican, offered his thoughts on President Trump. "I love his tweeting, as he tells the blatant truth, but lots of people don't want the truth and that is causing some trouble,"  said Sica. He has some disagreements with the Trump administration, but still supports the Oval Office.
Sica, who attends Bishop Brady in Concord, New Hampshire, has a very packed schedule, including being President of the Drama Club, an Eagle Scout, and a Mentor for Freshman, along with many other activities.