Caleigh Plunkett combines bravery and creativity
by Peter Schmidt
Caleigh Plunkett has confronted bullies in real life.
Plunkett, a fifteen year old who has been homeschooled all her life, was on a 4H exchange trip to Montana, when she saw other students bullying a girl.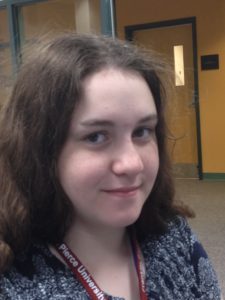 "I felt bad for the girl who was being bullied and I wanted to make sure that it wouldn't happen again," she said. "Someone has to tell them it's wrong."
She is going into 10th grade this fall and will continue to homeschool using the online school VLACS. The subject that she enjoys most is Latin, while her least favorite is Algebra.
She came to the Presidency and the Press program because one of her many career goals is becoming a reporter and has been enjoying it so far.
She adores drawing, and fills notebooks with her sketches.