Isaiah Dokus planning to build the screen
by Stefne Ricci
Isaiah Dokus wants to be a cameraman, inspired by the idea of informing and creating.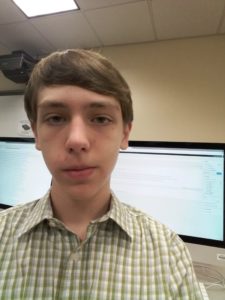 "I don't want to be on the screen," he said during an interview Saturday, July 15. "I want to make the screen."
Dokus admires how you can make technology do what you want and create what you want. He wants to reach and inform by filming news, hoping to focus on subjects that have long term impacts, instead of things that will go away in a day.    
He discovered he wanted to be a cameraman in sixth grade when he received a cell phone. Dokus felt empowered. He had the entire world at his fingertips, allowing him to capture any moment in time whenever he wanted. He continued making videos and exploring different technologies, like various computer programs, leading him to where he is today.
Dokus is currently attending Presidency and The Press, and hopes to gain many skills, including a better understanding of what being a cameraman in the media is like.