Nick Cantatore's broad interests spark ideas for the future
by Brendan P. Sica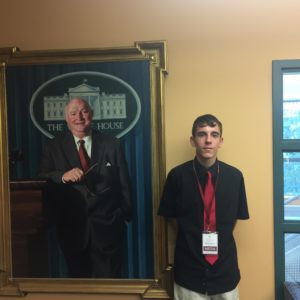 Niklas (Nick) Cantatore is interested in politics and medicine, but his diverse interests did not stop him from attending Franklin Pierce's The Presidency and The Press.
Cantatore also loves the Republican Party and has a passion for challenge, Mrs. Anne Banks, Nick's ELO coordinator, recommended that he attend  The Presidency and the Press .
Cantatore has high hopes for his future such as attending the University of New Hampshire as a pre-med student in order to one day practice pediatrics. After earning his M.D  he aspires to move on to politics where he'd like to work on a national level.
"I want to work by, with, and for the people and being a statesman would be an ideal forum for just that," said Cantatore.
Aside from his studies preparing for these professions, Cantatore finds the time to enjoy mastering the Rubik's cube. He currently holds a record only 8 seconds from the world record. Cantatore also attends Future Business Leaders of America (FBLA) meetings at his school Pittsfield Middle-High School.