Peter Schmidt investigates different careers
by Caleigh Plunkett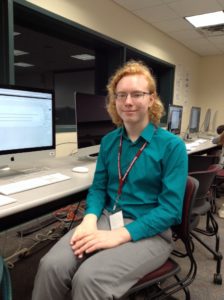 Peter Schmidt's future could include being a mathematician, investigative reporter, or an actor.
Schmidt, a 17-year-old from Lebanon, NH, has been homeschooled all his life, which he says has allowed him to explore anything he's interested in. His parents have also encouraged him to try anything.
He says, "I like exploring different fields, and finding the interesting parts of a subject."
He is interested in The Presidency and the Press program because he believes that politics and journalism are important to the American democracy. He found out about the program through homeschool email lists.
Schmidt considers himself a nerd and enjoys playing Magic: The Gathering, Dungeons and Dragons, and various board games. He volunteers at his local library, and participates in community theater.
Schmidt also likes to travel, and has even gone as far as Tahiti.