Pinkerton student wants to influence future generations
by Ashlynn Hatch
Alison Kaiser's passion for reading and writing have inspired her to become someone who will influence future generations.
Inspired by relationships with her past teachers, Kaiser wants to become an English teacher, incorporating life lessons into her teaching. "I want to inspire my students to see the bigger picture in life," said Kaiser, "by making them read more than just the classics."
Kaiser intends to teach her students by bringing out the life lessons in these books and going into deep conversations with her students. She wants to make her students, time worthwhile by giving them a lesson they can hold onto for the rest of their lives.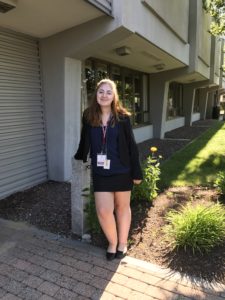 Some eye-opening books that she recommends would be Tuesdays with Morrie by Mitch Albom and The Bell Jar by Sylvia Plath.
At her school, Pinkerton Academy in Derry, New Hampshire she is the editor chief for her school's literary magazine. She has written poems, and her stories are mainly realistic fiction. She has even written a six-word story: "She spoke loudest through a pen." This statement sums up her personality because she expresses herself better through her writing than in person.
Kaiser is attending The Presidency and The Press to gain experiences in other forms of writing. After attending this course on journalism she will be attending a course at Plymouth State University called Young Writer's Institute. This other program revolves around fiction and other forms of writing.
Some other interesting things about Kaiser are English and American History are her favorite subjects. In her free time she likes to travel, read, write, and play with her dogs, Rosie and Daisy.