Trent Spiner describes political views of New Hampshire Union Leader
by Niklas Cantatore and Brendan Sica
Trent Spiner stated that the New Hampshire Union Leader is "a conservative outlet, but not necessarily pro-Trump."
Spiner is the Executive Editor of the Union Leader and spoke to the Presidency and the Press Program at the paper's offices.
Spiner said that Joe McQuaid,  the publisher of the newspaper, stated during the election cycle that Donald Trump "insults the New Hampshire voters' intelligence." Spiner confirmed that this was the opinion of the Union, saying "the view of the publisher is the view of the paper."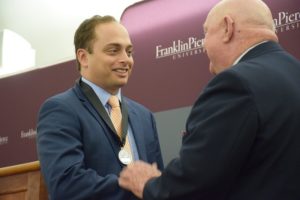 Trump and the Union have had a long history of feuding. As said by a Union Leader online piece, McQuaid had compared Trump to Biff Tannen from Back to the Future, and Trump in turn had called the paper "a rag."
The Union  Leader hosted a debate for the Republican Presidential candidates shortly after these comments were made, which Trump did not attend.
Following this, Trump had hosted a rally in New Hampshire, spending a great deal of the time insulting the New Hampshire Union Leader. He slandered the Director of Advertising, releasing her name and email address to everyone listening.
"She received tens of thousand of emails from very angry people," said Spiner. "We even received a hundred thousand spam emails from Russian servers, and this was before the idea of collusion even occurred."
Spiner led a tour of the Union Leader for the Presidency and the Press Program.